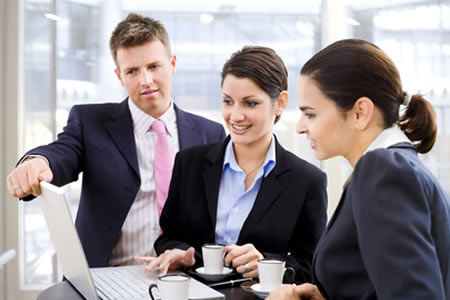 We understand why business is reluctant to change. Implementing a web based software solution sounds expensive. The truth is it does not require new software. It does not require new hardware. There are no downloads or installs. There are no contracts. You don't need a guru either. The system is backed up for you every day. It puts president/owner in complete control. Web Based Software solutions eliminates all these negative factors:
1. First of all there is no investment in software or hardware. These systems run on standard desktops, both windows and macs. They use the Internet. It's remarkable to note that you already have the infrastructure in place now. It's just standard business stuff – computers at desks – on the Internet.
2. Second, and most importantly, you're not relinquishing any control to anyone. As a business president/owner all you need to know is the software. You don't need to know about hardware or how it works. All you need to know is what screens do what. As a business owner you'll know that better than anyone.
Web Based Software allows your business to be more modern than anyone without any of the downside of technology. It gives you the perfect platform to move your business forward without any risk at all.
How to Start Using Web Based Software!
Converting your company to Web software is like establishing a beachhead. You don't have to jump onto it all at once. Instead of jumping, find one aspect of your business that can be radically improved with web software. Ideally you'll want to pick something that doesn't affect other systems.
Web based software solutions offers several utilities that you can start using now, that radically improve your business, and don't affect other aspects of your business. For example web based software's Internet Timecard provides a system to track employee hours. Employees are asked to log into their workstations and the beginning and ending of the workday to "mark" their time. A simple utility like Internet Timecard does several good things:
1. It makes employees accountable for their work hours. Rather than going on "the honor system," Internet Timecard provides hard evidence of hours worked. This usually increases the amount of time on the job while lowering total payroll.
2. It provides a structure for your employees. Internet Timecard brings organization to the workplace. It provides fair and equitable treatment for all employees in regards to their pay. Employees know you are serious and organized. It develops respect for the organization among your workers.
3. It starts you and your employees down the road to converting to Web software. It gets them used to interacting with Web systems. They will learn to log in and out, how the software works, and that the software is capable of doing real work – like calculating their pay!
After your company uses Internet Timecard for six months, you're ready for the next step. You can add other modules like Company Calendar or Web Office System which is our version of a contact manager.
Finally, Software That Is Uncomplicated On Purpose!
Web Software like Internet Timecard, Company Calendar, and Web Office System are so easy to use it's ridiculous. It's simple on purpose. If you use Internet Timecard for example, you'll find that you can prepare a detailed payroll report in minutes.
Working with Web software is simple. In the million-dollar mainframe systems you had to log in to use the system. When you logged in, the system setup a profile for you that allowed you to do certain things and prohibited you from doing other things. Web software works exactly the same way. Employees need to log in before they can use the system. When they do, the system sets up a profile. Some employees can edit data while others can only view data. This puts you in complete control over your company in the computer. Just like in the real world, with Web software you remain in complete control.
When you commit an aspect of your business to Web software you start running so much better that you make more money. Using that found profit, add another aspect for $25/month and make that run better too. This way you can commit more of your business to web software without risking data or capital.
Run Your Business Like A Large Corporation!
Large corporation have centralized software. They have rules. They have a way of operating that makes them superior. They dominate the market. That starts with their software system. Large corporations think nothing of paying millions to develop operational software because it's worth it. Without it they could not compete.
To be successful you have to centralize operations. Even if you have just three employees things get complicated. If employee A has specific information on their PC and the customer calls employee C, they have no visibility into the problem. Then it becomes a matter of tracking down employee A and finding out what they know. Even in a small company this is a huge problem. You cannot possibly grow with data scattered about through the company.
Large corporations don't operate this way. How could they? With hundreds of employees you must have a central system. When employee A gets specific information they put it in the system, NOT on their PC. Now when the customer calls employee C, they go into the system and see what employee A entered. The problem is solved. The customer is happy. The difference is the system. The centralized system puts a foundation under the system. It sets the stage for growth. The system is why large companies grow.
The traditional business model works like this: The boss/owner/president calls a meeting of his people. She explains what she wants – her vision for the company. The employees take notes. Then they go off and attempt to implement what the boss wants.
The problem with this approach is it is too inefficient for today's marketplace. You have four employees each attempting to implement the bosses' strategy independently. The first employee doesn't know what the second employee is doing. What is missing is a unifying system. When you unify your company with a central system, there is synergy between employees. Employee A builds upon employee B and vice-versa. The business takes on a collective knowledge.
That collective knowledge is powerful. Without a unifying system employees are left to their own devices – PCs, smart phones, faxes, and emails – to attempt to run the business. You have individuals operating independent of each other. No one knows what the other is doing. Collective knowledge maximizes employee effort. It turns the business into a force in the industry.
Web Based Software Is Your Million Dollar Mainframe!
The best companies in the world used IBM mainframe information systems to run their businesses. These systems used large central computers and hundreds of terminals throughout the company. Terminals were placed into strategic locations, basically everywhere where someone may need access to company data. There were terminals in shipping for example. There were terminals in sales, engineering, and in the president's office. These companies built a computer infrastructure based on the need for information.
Remarkably we are able to do the same thing with Web software. The database resides on the Internet. The database resembles the mainframes of old. Terminals have been replaced by PCs. Now you have a computer infrastructure that function identically to the million dollar main frames.
Do you have PCs in the office? Do you have a LAN? Every office does. Each PC becomes the equivalent to the terminals throughout the corporation. As long as you can get to the Internet, you can get to the system. That means that everywhere you have access to company data. You already have a terminal in shipping. You already have a terminal in sales, engineering, and the president's office. The computer infrastructure is in place now. Implementing a web system takes advantage of your existing equipment making it more power than you ever imagined:
1. Everyone you do business with will have access to your system. This makes your business better and lowers cost.
2. Your data will be in one central location that is accessible anywhere. You and your people can operate from the office, your house, or on the road.
3. You can slice and dice data in ways never dreamed of. You'll have realtime reports for everything you need to see. Reports that took days or weeks to prepare are available instantly.
4. Web software adds synergy to the group. Data is constantly being added, refined, improved, and expanded. You have dozens of people adding data to collective company knowledge. That knowledge is collective, not fragmented like before.
5. You already own all equipment necessary to implement a company wide system. You can make better use of the equipment you already have.
6. You already have the expertise to operate your system. Web software is easy to use. You or your people do not have to be computer literate. You just need to point and click to get what you need.
7. The speed and power of web software is unlike anything else on the market. Nothing can make your company so good, so quick, and with minimal investment.
No Guru Necessary – Web Based Software Is All You Need!
Web software comes in many varieties from phone apps to full database systems. You can implement web software in two basic ways:
1. Developing Web software is different. It's not web design and not every web designer can do it. It takes years of practical Web programming experience to develop web software that actually runs a company. Web based software supports thousands of businesses daily and have for the past 15 years.
2. Your concept about deploying a central database is a good one. Your vision of delivering data in real time throughout the world works. The investment in Web software will pay off a thousand fold.
Web based software solutions work beautifully. The business benefits to converting to these systems are overwhelming. It's also safe. It frees you to run your business. It elevates your business. Web systems are such a radical improvement that if you aren't using one now, your competition will put you out of business. We'd much rather see you put THEM out of business!